The Facts
Location: Toronto, Ontario, Canada
Size: 14500 Sq M
Partners: Noel Harding Studio
Client: Canadian Plastic Industry Association
Budget: N/A
Completed: 1999
Publications:
Bennett, Paul. "Slouching Towards Toronto."
Landscape Architecture Magazine 1 Mar.
2000: 72-77
"Elevated Wetlands, Toronto, Canada.
" Paisea / El Elemento Vegetal 1 Sept.
2009: 34-39
McLeod, Virginia. "The Elevated Wetlands,
Toronto, Ontario, Canada."Detail in Contemporary
Landscape Architecture. London: Laurence King,
2012. 46-49. Print.
About the Project
Neil Hadley collaborated with Artist Noel Harding on the "elevated wetlands" public art project in Toronto, Ontario, Canada. The elevated wetlands were designed to intrude and locate itself, as being evident from the speed of a major traffic artery into downtown Toronto. The project consists of six polystyrene containers filled with recycled plastics acting as hydroponics planters for native plantings from the Don River Valley. Water from the polluted Don River is pumped via solar photovoltaic pumps into the sculpture, and is filtered through the planted containers, and then cascades into large ground level wetlands, returning to the river significantly cleansed. As a functioning sculpture commissioned by the Canadian Plastics Industry Association, the work draws attention to the importance of wetland ecosystems, and more importantly the rate at which they are disappearing. Subsequently, the City of Toronto has identified and designated the site as one of seven green tourism locations.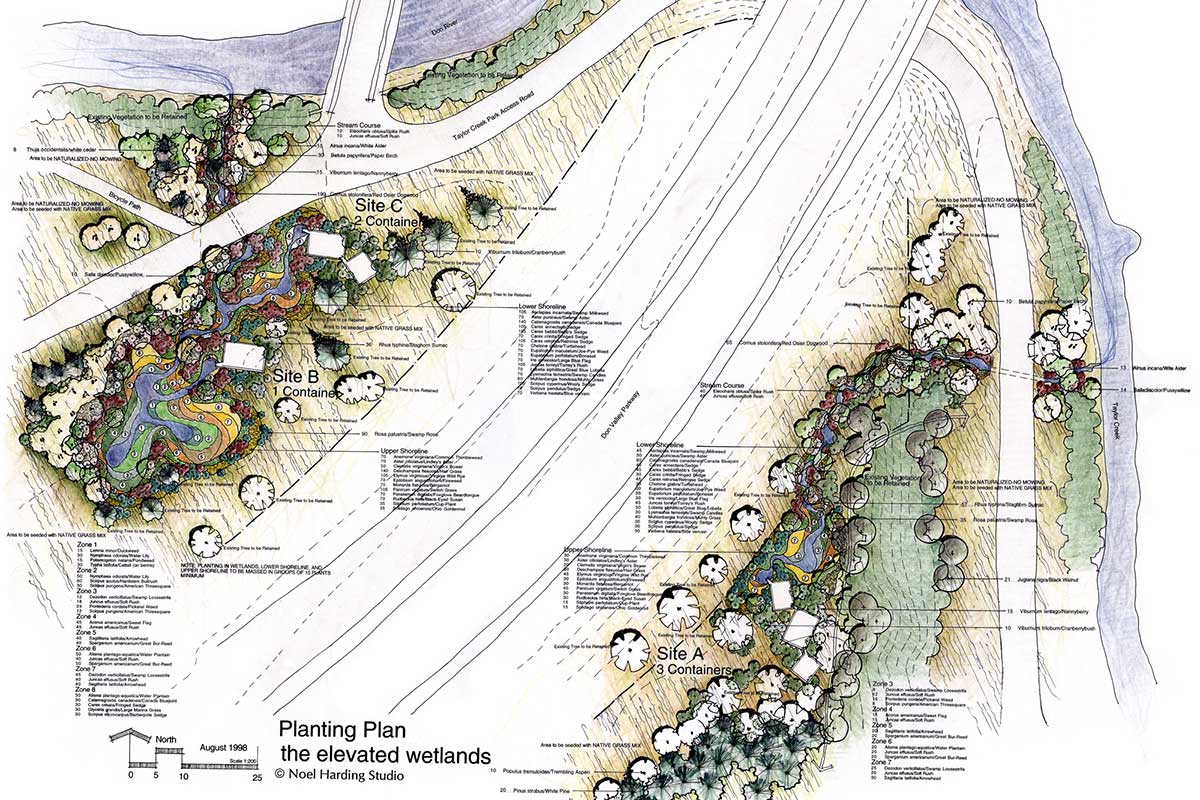 The structures rest on the Don River that cuts across Toronto.
" A lot people think they look like diapers. Some say elephants, or molars."
 – Noel Harding, Noel Harding Studio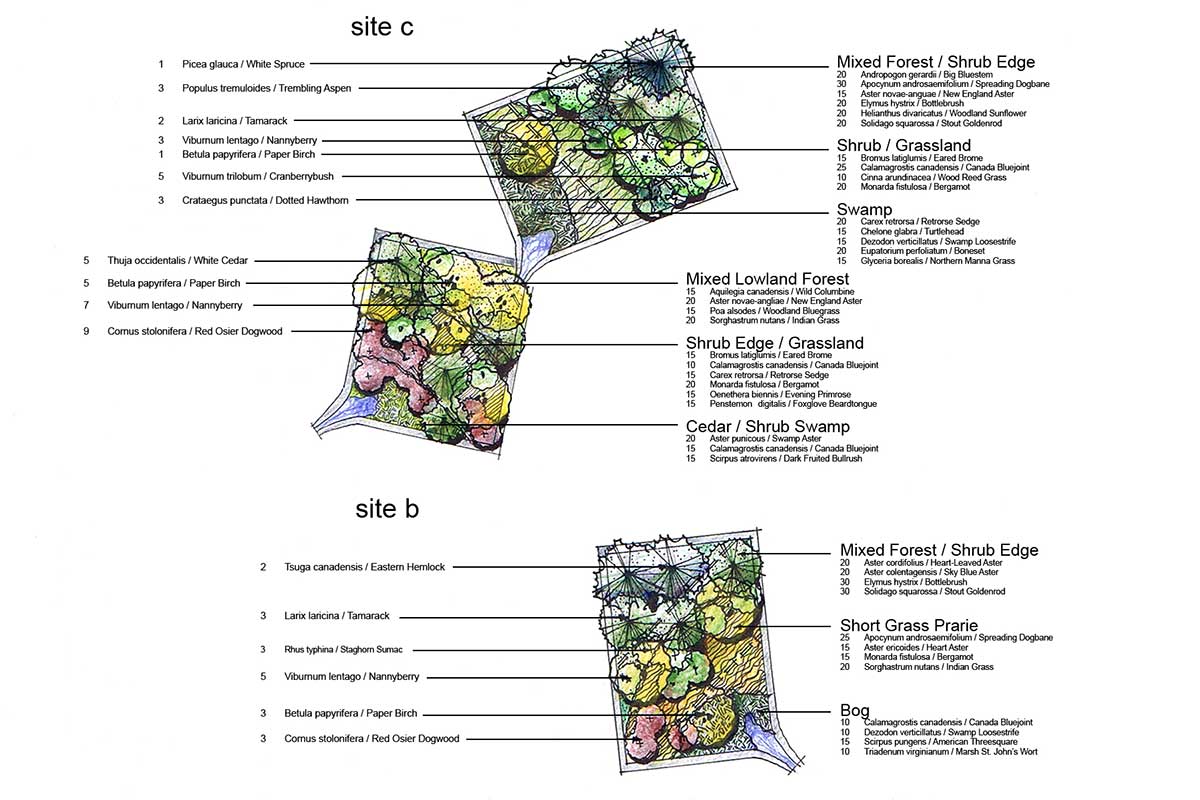 The water gets filtered biologically as it transfers from structure to structure.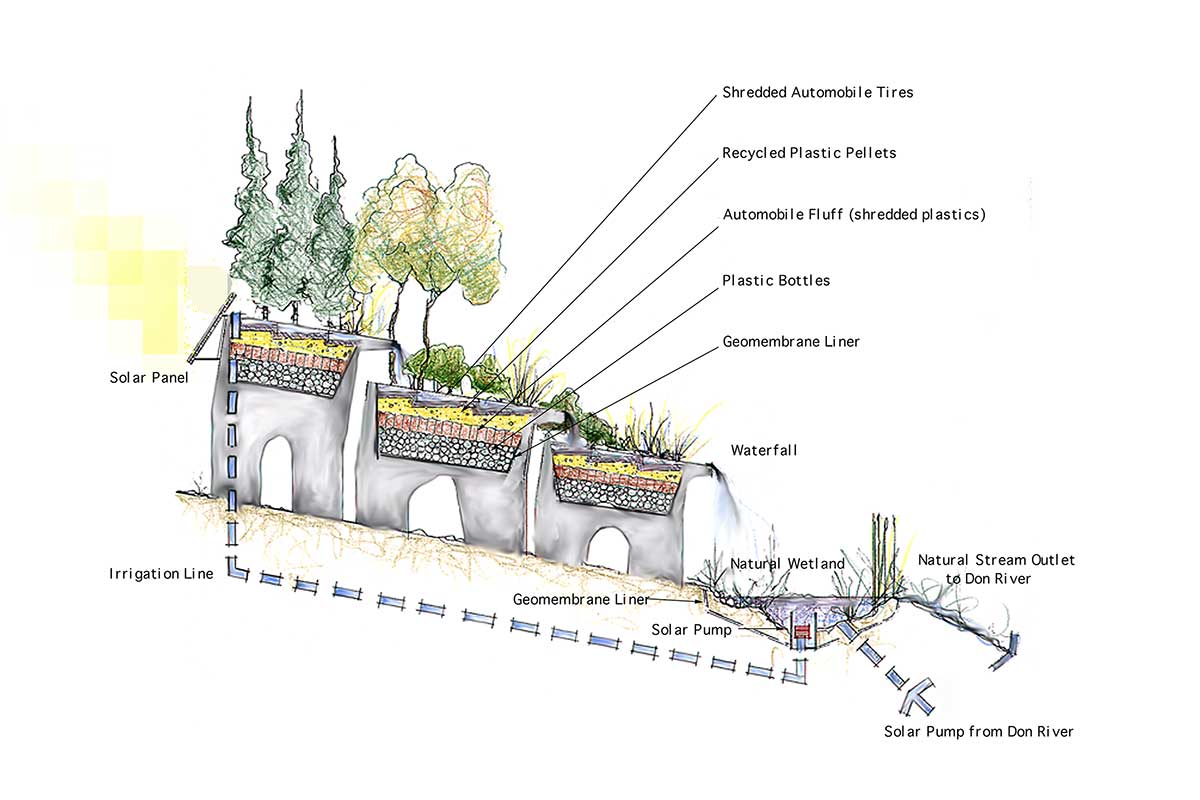 The water is then cleansed when it returns to the river.
Page Excerpt from Details in Contemporary Landscape Architecture,2012